THE JACQUES MARTEL FOUNDATION COMMITS TO THE PRODUCTION OF ORGANIC ALMOND TREES
To help revive agriculture in Saint-Cézaire-sur-Siagne, the Jacques Martel foundation has been looking into the production of organic almond trees from Provence.
In association with a local farmer, the objective would be to use agricultural land to replant almond trees.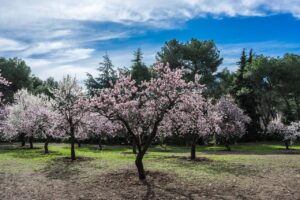 Organic almond tree in Saint-Cézaire-sur-siagne, not such a crazy idea
Cultivated since antiquity, the almond tree of Provence is an emblematic variety of the South of France, very famous but now almost extinct.
The climate as well as the nature of the soils of the commune offer ideal growing conditions. Several successful tests have already been carried out.
Using local agriculture in the food industry is possible!
And this is what the Jacques Martel foundation intends to demonstrate. Behind the desire to relaunch organic production on the farmland of Saint-Cézaire-sur-Siagne lies the foundation's desire to create a short production circuit, from the producer to the processor, and to promote local, organic, quality agriculture.
A fundamental commitment for the Jacques Martel foundation.